R000CKS focuses on the problem of formally representing knowledge in the age of the "big flat now". "If the classical ideas of ordering, indexing and systematic and functional organization were tied to the idea of the encyclopedia as the possibility of fully describing, understanding and ordering the world, this project shifts its focus towards ideas of accumulation and aggregation as a new formal language that conceptualizes the internet as a new model of knowledge."

Specifically, rocks provide a blank formal medium which allows for the attentive manipulation of material, effect, and graphic. Through the combination of ultrarealistic elements, graphic two-dimensional elements, and representations synonymous with 3D environments, layers of the digital realm are collapsed into a single image which develops new layers of representational understanding. Game as final product.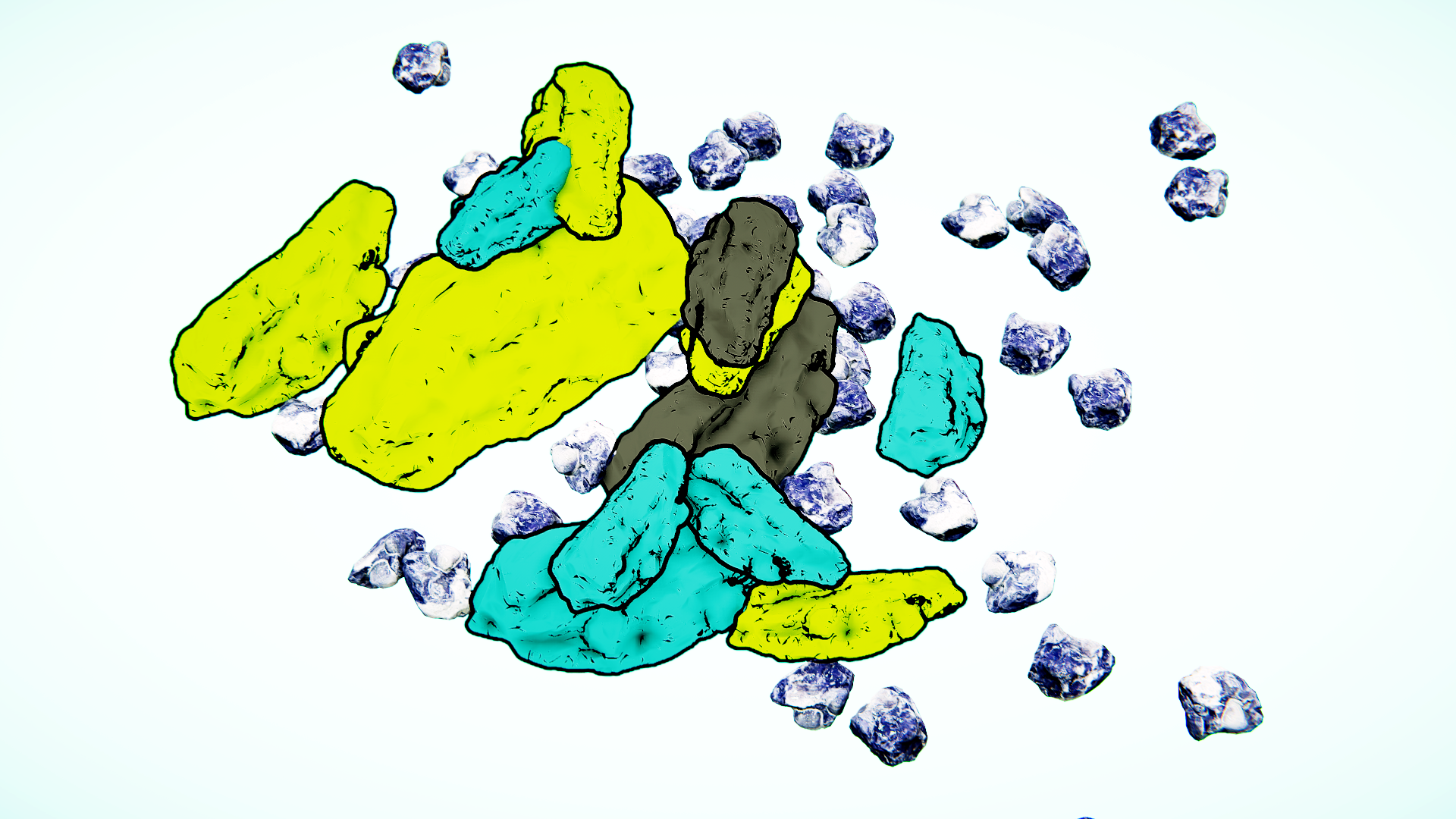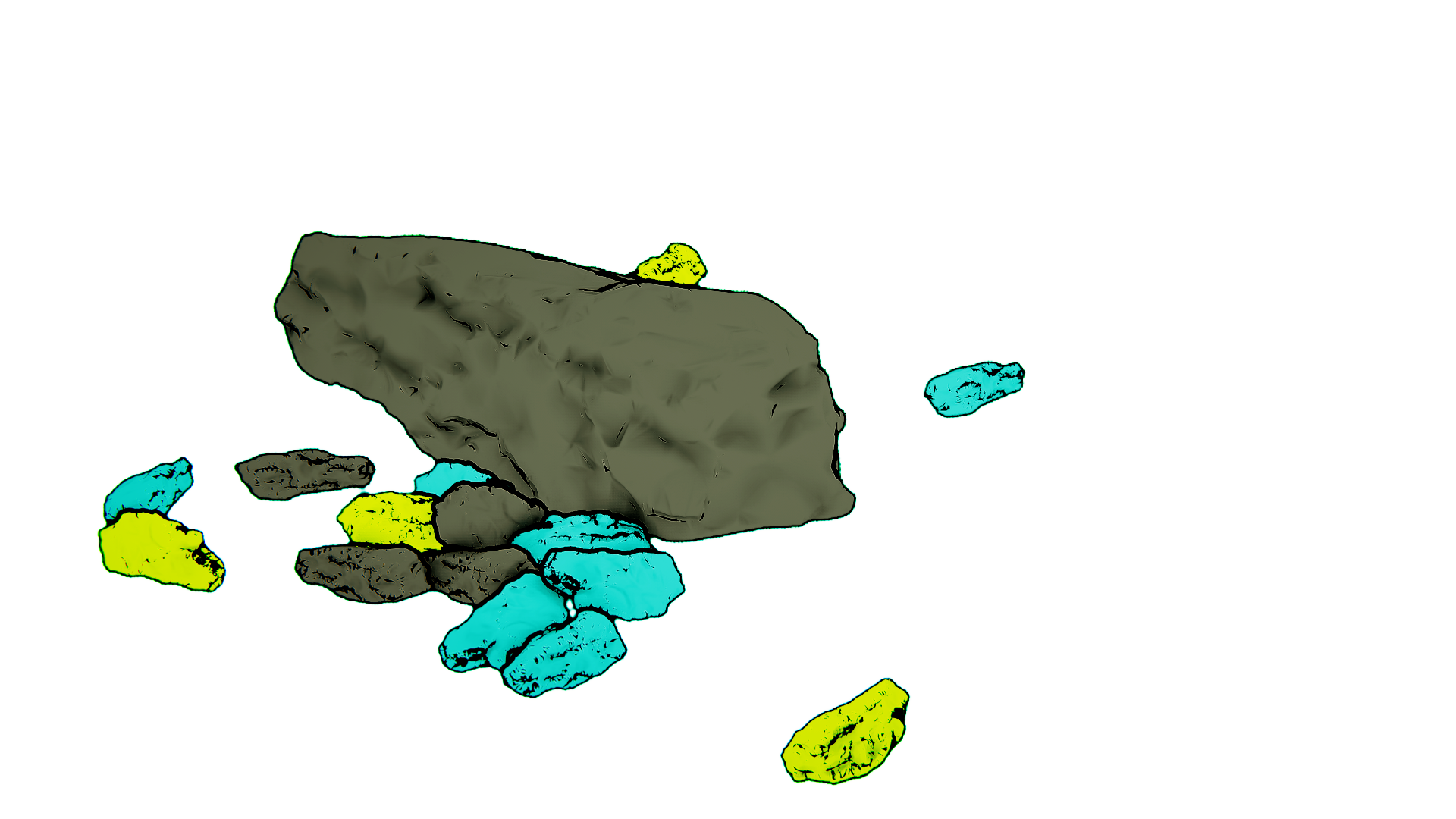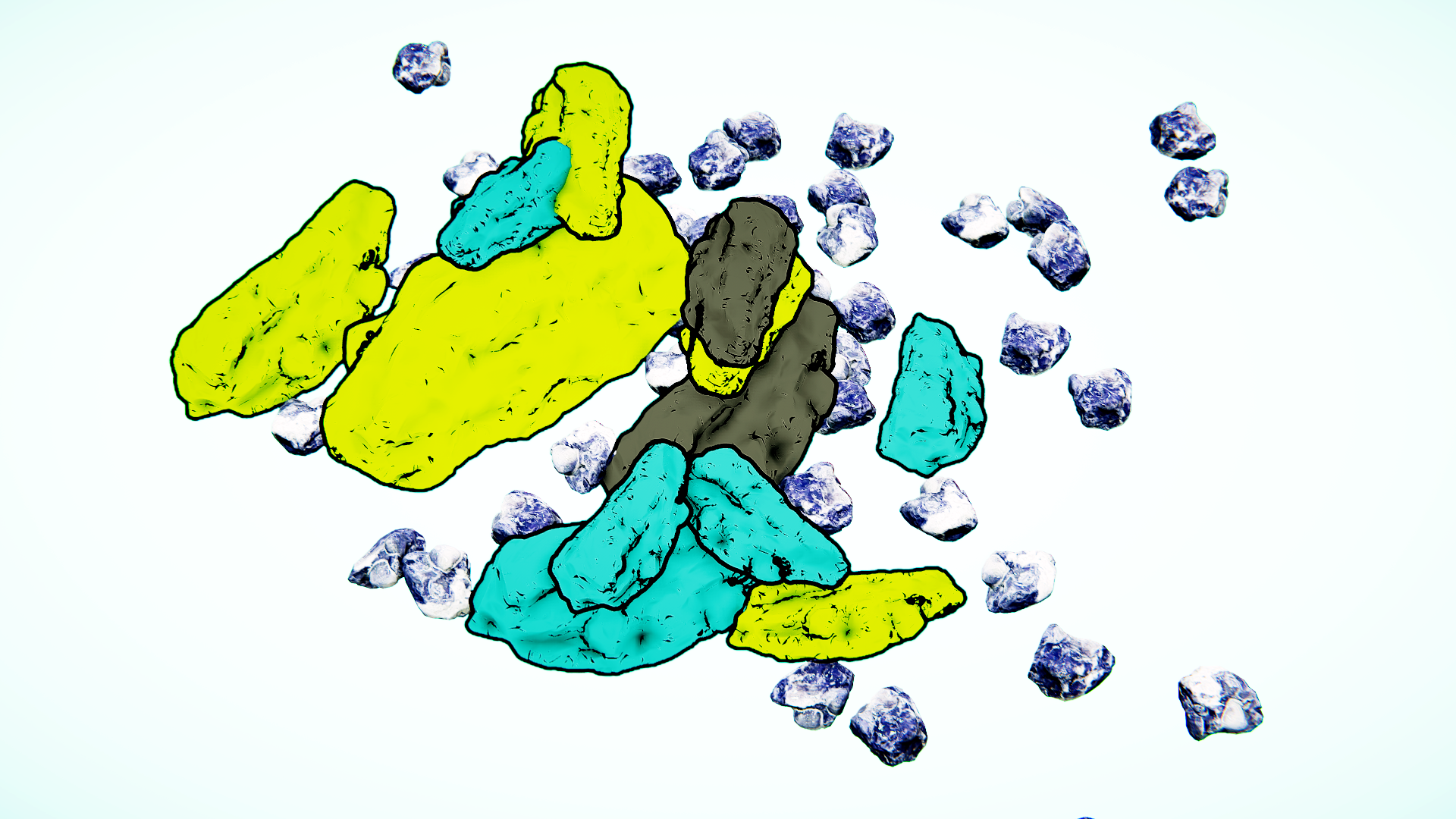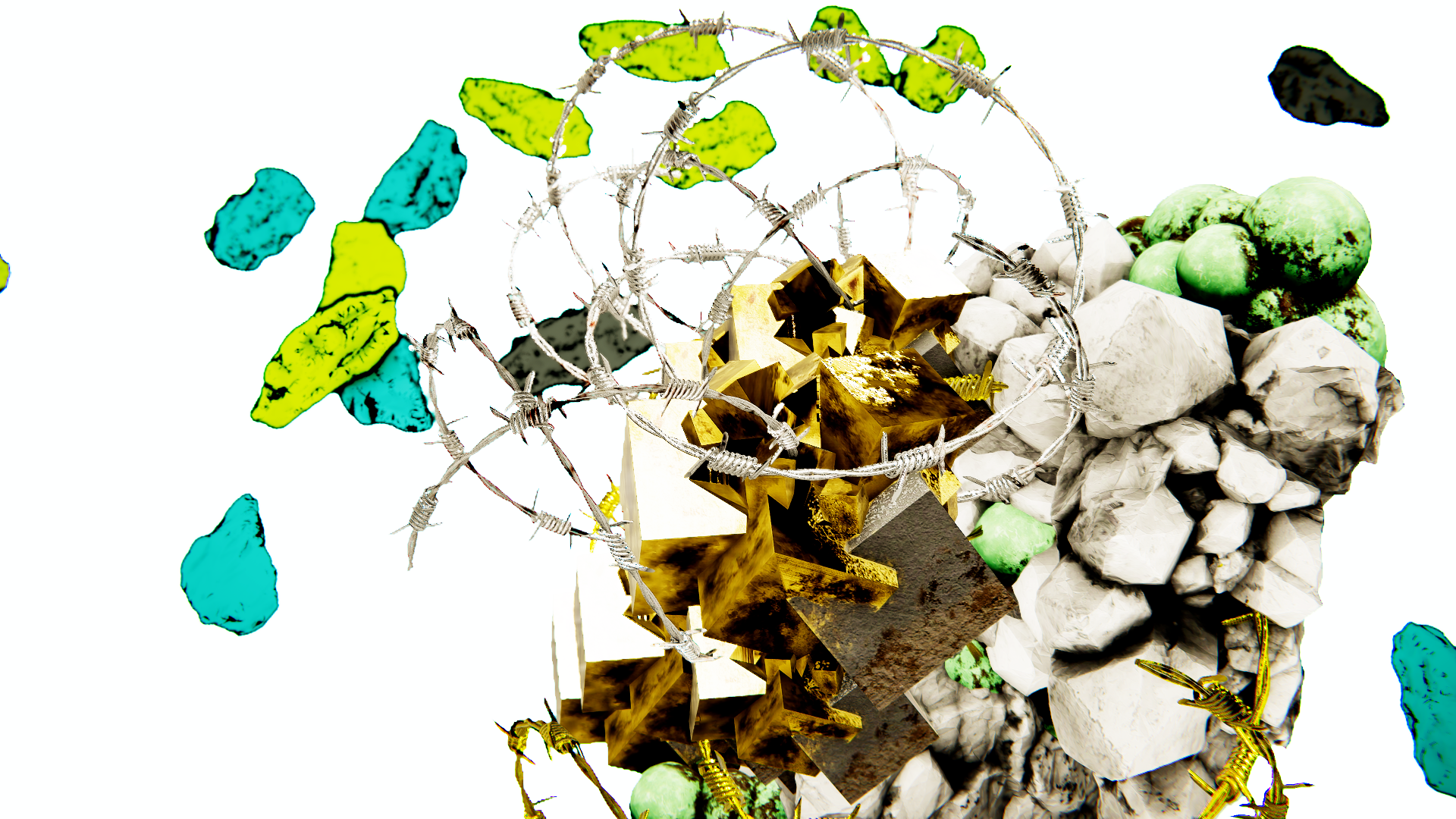 In 2026, the Los Angeles County government, as part of the preparations leading up to the Olympics, commissions a public artwork to commemorate the city. As a response, we propose a folly -- with a twist. Rather than a miniaturized building like follies have traditionally been, the "REMNANT" is an oversized fragment. Pastiched and decayed with ornamentation from the surrounding buildings, the REMNANT is a nod to LA's own fragmentary architectural history, replete with various styles and falsehoods.

As a memorial, the LA government stipulates that the REMNANT must remain in its installed position. Over time, the Remnant becomes the one point of consistency and confusion. As an anachronistic object itself, the REMNANT's adjacency to the shifting scenes of South Broadway highlights how our understanding of time only exists in relation to recognizable signifiers.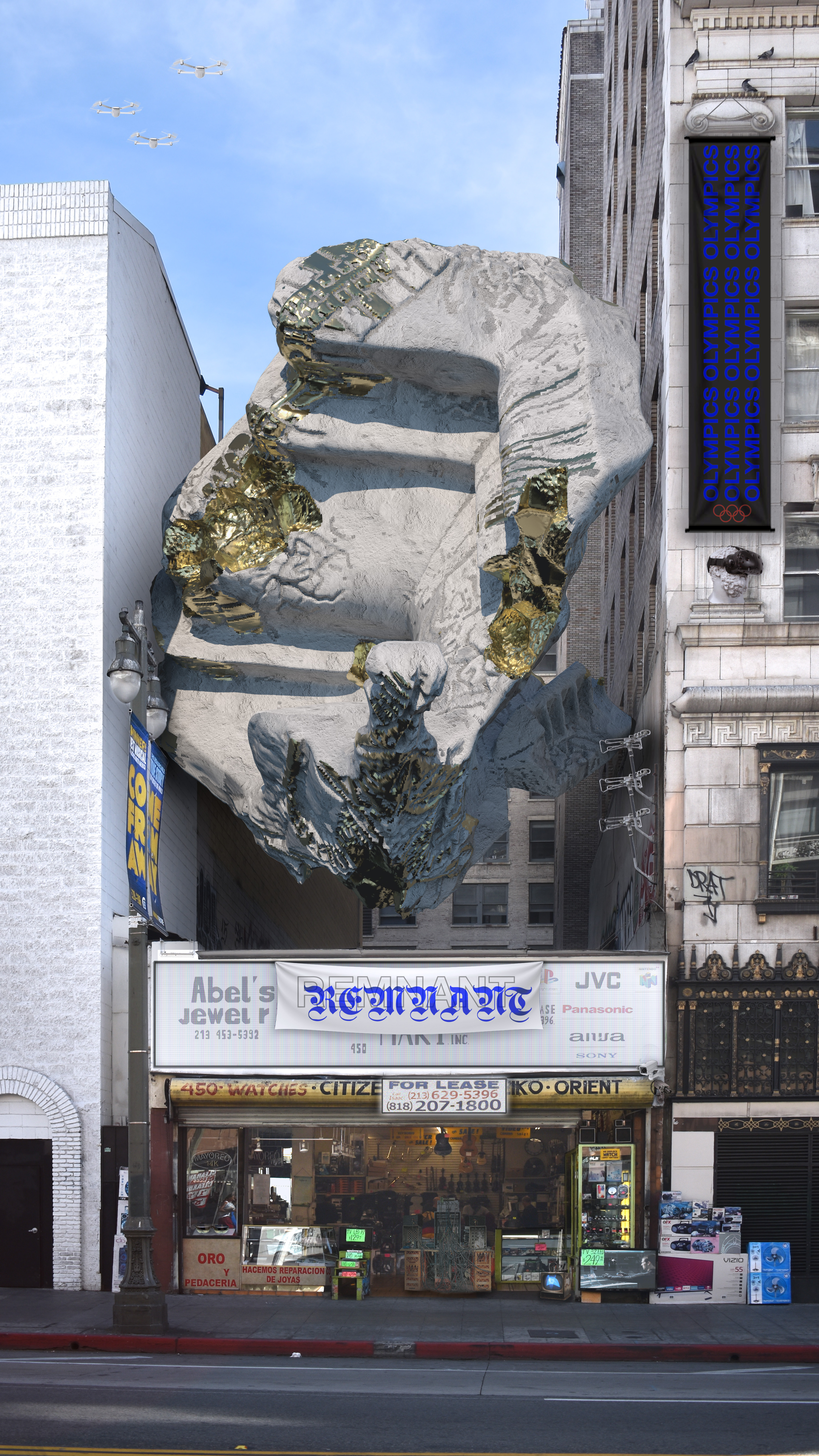 Situated on the brink of capitalism's failure, Cache speculates on the future of hoarding by subverting the expectation of an objects sentimentality — now a force of discomfort and ritual.

This altar invites the hermit to use weight as a means of precarious bondage. Trash, treasures, and industrial machinery stretch, pull, and lift its collector — a symbiosis of permanent creation and temporary affliction.
Phygital Apicius
2019
In collaboration w/ Dutra Brown, Christina Griggs, & Justine Poulin
The beauty of lasagna is in the coming together of disparate ingredients. The act of cooking one is not dissimilar to the construction of building—layering of different materials to the creation of one harmonious whole.
Phygital materialities mediate between the real and fake developing a space and experience which is neither fully digital or fully physical. Hyper-real, broken textures, and flatness become collapsed within the same representation. This exerts a way to understand all aspects of an object and scene manipulated through volumetric video capturing techniques.
Through the use of photogrammetry, a dimensional parallax landscape was reimagined as the "world of chromatica". Fragmented, shiny, and gooey blobs suggest anti-gravity and space themes which persist throughout the album's imagery.

Representations show how this effect was shot and constructed in 3D programs.