LABrary
2019
Atlanta, GA
In collaboration w/ Gregory Kokkotis
Design Development Team: Zepeng Gao, Kaiying Lin, Bowen Liu, Amparito Martinez, Phoemphol Phoemphoolsinchai, Manying Wang, & Yixin Zhang.

Featured in SCI-Arc Spring Show 2019
︎
︎
"LABrary" explores how simulated environments can enrich library programs to offer outlets of climatic research and environmental temporality.

The tower utilizes geometry to construct a series of extreme simulated environments through integrated technology and spatial vastness. These environments range from humid and hot to windy and cold offering labs for testing, learning, and teaching in specific climatic and cultural conditions. The facade is constructed from LED glass that compliment the interior environment's aura while providing shading and contributing to the monolith-like form.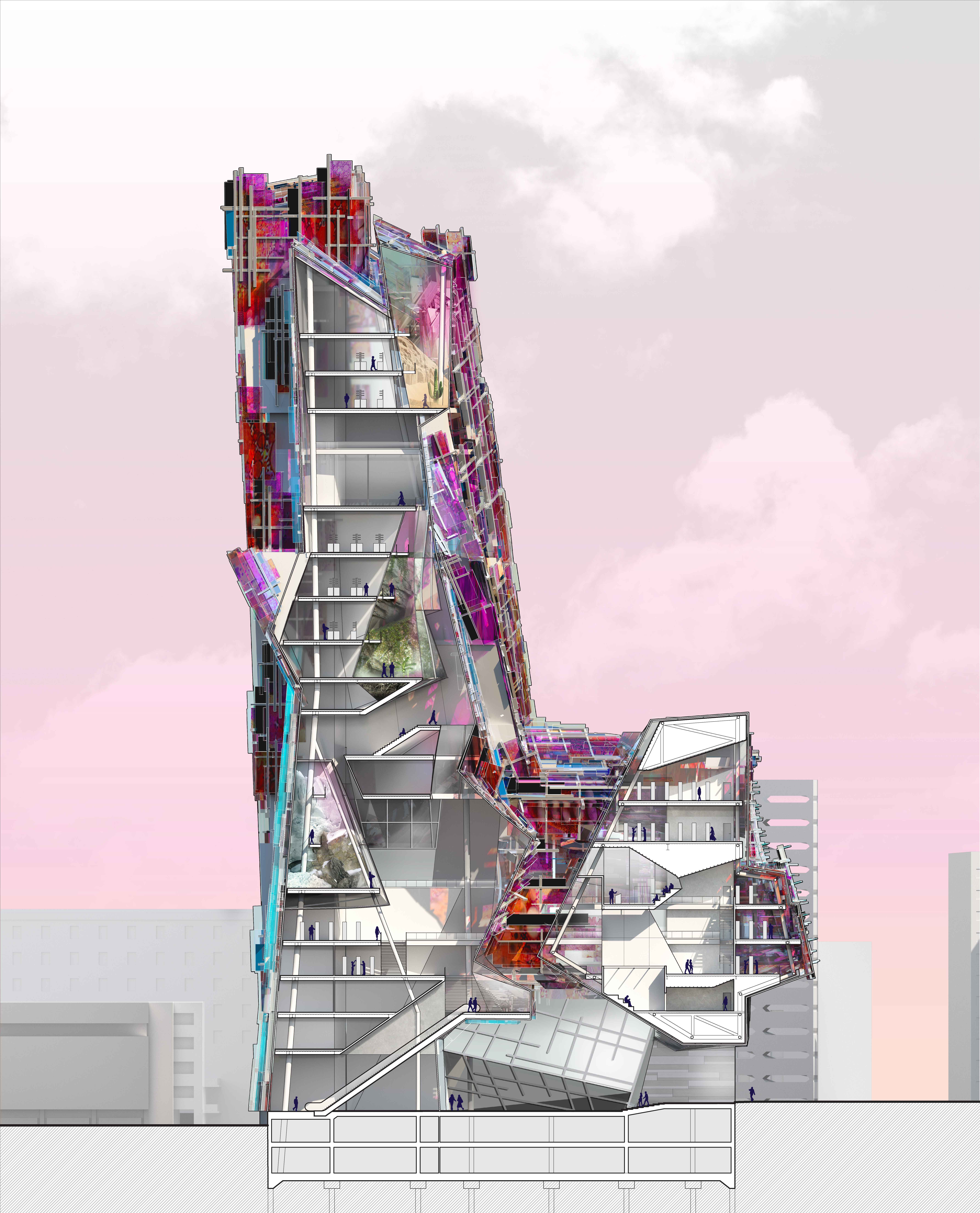 Simulation, assembly, and the environment.
LABrary reimagines how architects may approach design development by using time as a tool to sequentially illustrate details of construction. This 4D design development process relies on a series of simulated environmental forces and visualized building codes such as egress, fire safety, and ADA.





︎︎︎ Watch full video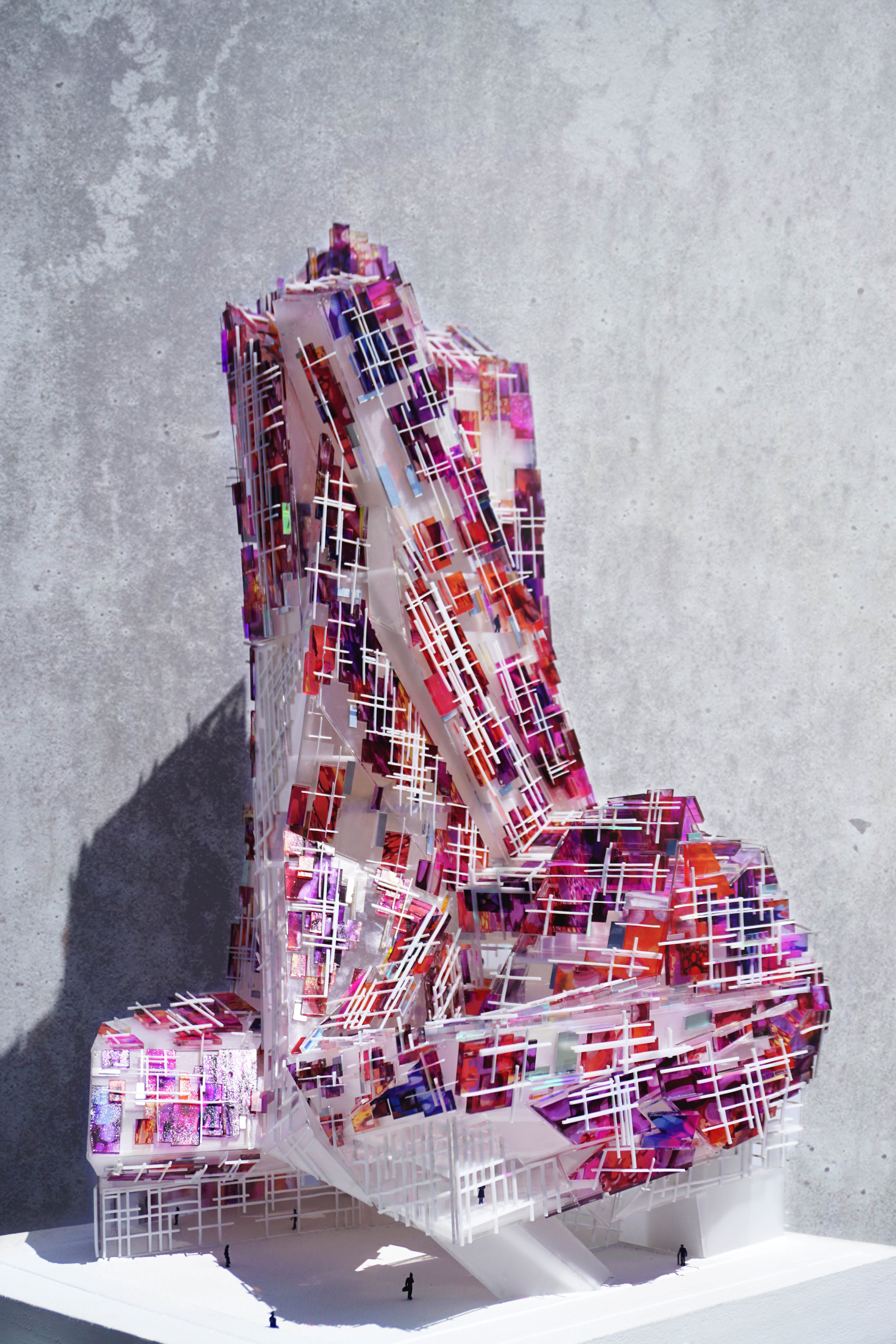 The act of masking governs contemporary representation. Amy Kulper, associate professor at RISD, locates this shift at Architecture's Digital Turn and the Advent of Photoshop. Masking.agency theorizes the persuasive act of masking by revealing its latency, thanks to step-by-step tutorials and feed of architectural gestures. It no longer lives in service of representation — illustrating its potential to generate form, finish, and minute articulation simultaneously. Layers of seemingly unrelated content pose as amalgamated interstices strictly by signaling values 0 to 1.

This tool advocates a generational shift in design. How can we design architecture strictly by concealing, revealing, and displacing content?
Tutorials - New outlets for transparency.


This thesis was presented as a YouTube playlist of four, fifteen minute tutorials with downloadable content. A critique, if you will, on an architectural education in the "age of isolation". What was once in-person interaction is now reduced to streamlined easily-consumable content, three days a week. The cut-out human on your screen are the only pixels gripping you to some sort of personable reality. How can designers use tutorials to feather their design process into the public realm? How can tutorial culture advocate for a more equitable and accessible design education?





UGG NY Flagship
2020
530 Fifth Avenue, New York, NY 10036
Architect of Record Team: Quezada Architecture
Design Team: Florencia Pita & Co.
Photography by John Bartelstone, Michal Czerwonka, and Evan Joseph
Material Features:
Custom terrazzo (made with bio-polymer) /
Steel frames incorporating lighting, glass shelving, mirrors, custom UGG logo screens and store graphics /
Built-in benches with device charging stations for guests /
Custom milled wall panels
derived from UGG shoe soles
'To recreate the experience and ethos of California, the architects looked to architecture, art, film and literature. The Eames' mid-century case study house, in which a steel structure and modular "kit of parts" were employed to create an open and flexible space that existed in harmony with nature, inspired the layout of the brand's new headquarters. The quality of light and landscape in California inspired both a glowing LED wall and the store's soft, curving contours. Like the work of Ed Ruscha and David Hockney, the architects sought to achieve more than just a snapshot of California, rather, a more layered image of California and its ideals, guided by openness and flexibility.'


Jonathan's role was to design the transformable fixture & POS on the first floor, render visualizations, and develop prototype models.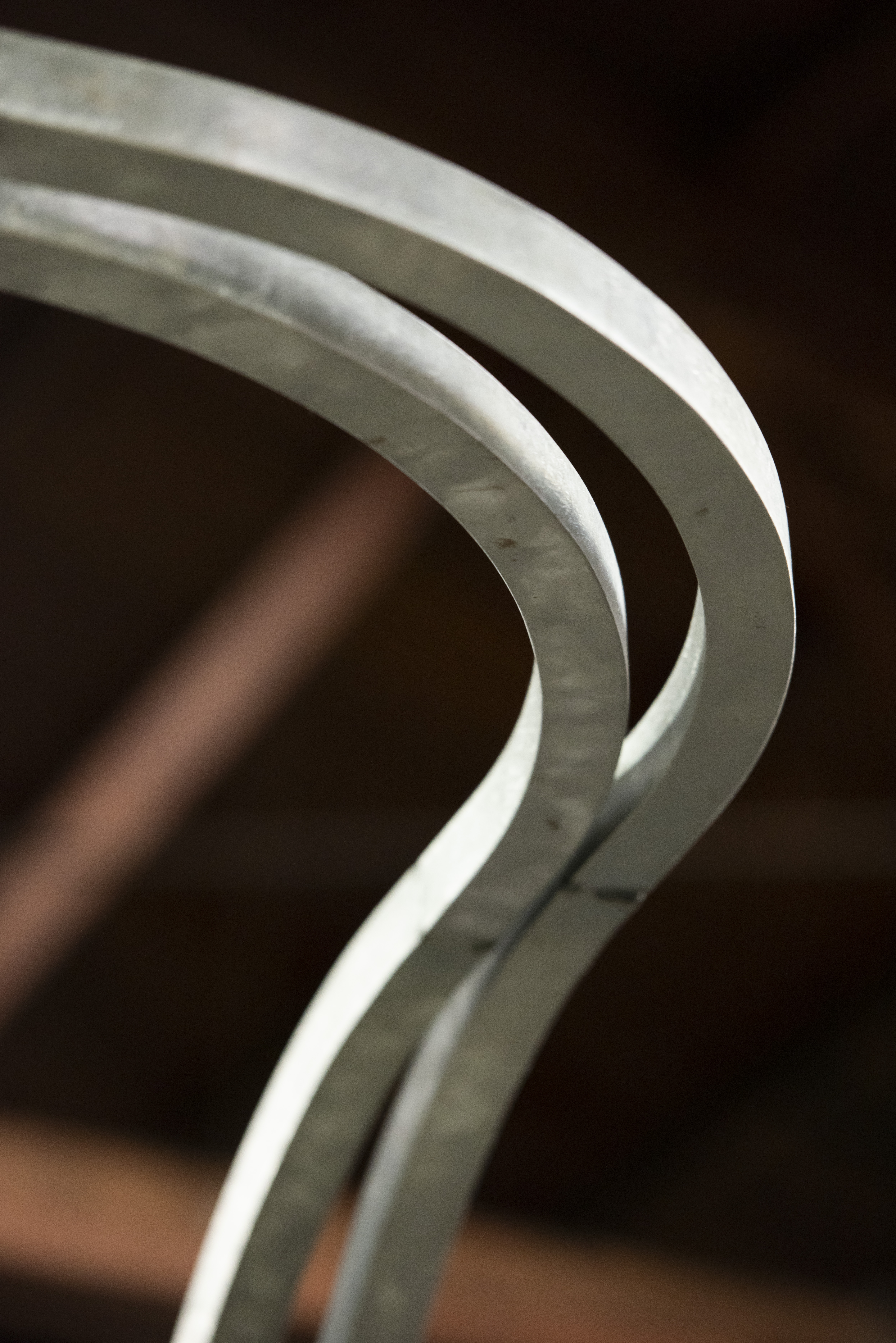 Impasto.r focuses on designing an extension for the Colburn Music School, located in Bunker Hill, an L.A. neighborhood that was collection of affluent Victorian homes. For our design, we imagined returning a Victorian home to the site and using it as a jumping off point.

One of the major areas of research was the application of paint and how we might re-think our understanding of surface treatments and decoration. Our design sought to create an inversion of expectation: the wood of the dollhouse is thin and unadorned, with the paint acting instead as the structure. The result is a project which leans into playful element of the dollhouse to propose a new form of novel tectonic.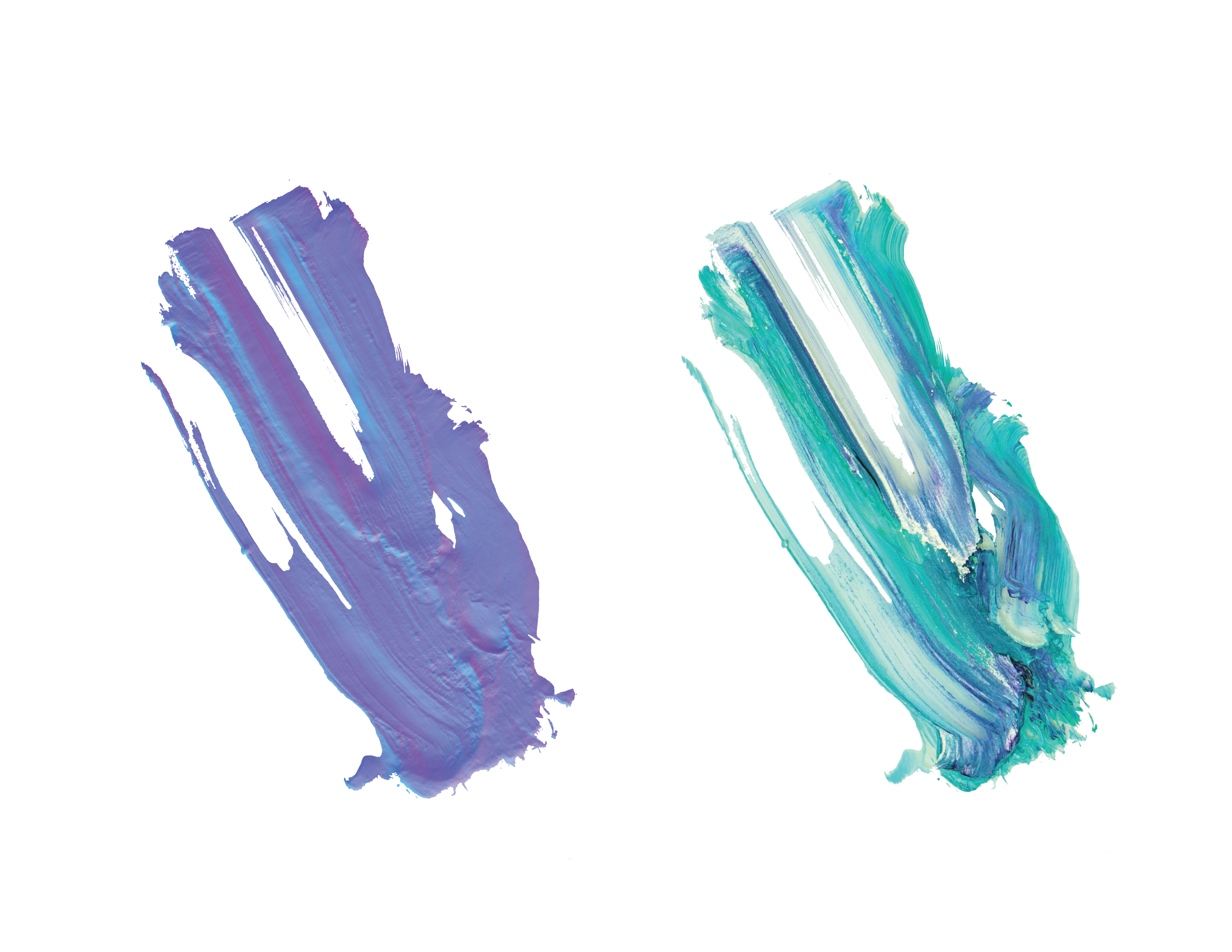 Capturing reality.

By utilizing AI material scanning, the paintstroke's sculptural and material qualities such as height, roughness, and micro-detail were extracted. It suggests a reinvention of the material. How can paint subvert its expectation as a liquid architectural finish? Can paint become the structure of a building?

Using interactive and participatory design strategies, EFFERVESCE considers how design can reflect on the tragic events such as the 2016 Orlando nightclub shooting to at once celebrate the memory of the lives lost and create new connections between those who engage this pop-up architecture.

Rather than a monument, this memorial is an encounter and an event -- a place of interaction and contemplation amid the commotion of the convention environment. Appearing as a filigreed and dematerializing wall, it inhabits middle of site allowing viewers to circumnavigate the structure. The convex shape of each wall surface subtly captures space without occupying it, while the curvature establishes a focal zone within the field. Within this zone are 49 vessels suspended in the porous structure, 1 for each life lost during the shooting. Upon closer inspection, one discovers that these objects are in fact mechanisms: a siphon and operable iris, modeled on a simple toy bubble gun. The design encourages one to squeeze the nozzle, drawing liquid in to the iris, and on release, opening to reveal a soap bubble surface. Each bubble blown is a fleeting yet vivid reminder of a life lost, and perhaps, a moment of joy.
Tectonic Mutations
2018
Los Angeles, CA
In collaboration w/ Richard Mapes, Amparito Martinez, & Rad Mika
Herzog and DeMeuron sourced their inspiration for their addition to the Tai Kwun Heritage Center from the granite blocks that compose the original prison buildings and revetment walls of the compound.

Keeping with the layered complexity of the facade, the standardized unit was reimagined as laser cut and machine folded sheets of stainless steel. The resulting implications of using flat media instead of cast blocks begged for formal shifts in the building's mass that would not have been possible with a standardized cast aluminum block. By deforming the exterior trusses of the building, and treating the exterior truss as a cage that supports interior free plans, the layered rainscreen and the building's program begin to share common themes of layering, variety in type, and functional utility.
ReNorfolk
2018
Norfolk, VA
In collaboration w/ Julia Costa, Michael Farkas, Claire Shue, Anne Taylor Windsor, & Hanbury
Awards & Recognition
AIA Hampton Roads Merit Award
For centuries, Norfolk, Virginia has been a cultural and commercial center within Hampton Roads. Its location between several major waterways, including the Elizabeth River and Chesapeake Bay, has driven its economy but endangered the future of the city as sea levels rise. Because of its deep channels, the Chesapeake Bay catalyzes both the import and export of goods within the United States and internationally. Norfolk's resiliency story is centered around both "living with the water," and the social implications of new resilient development.

To form a physical connection to our site, we are adding interest to the area by creating a series of waterfront parks and a large pedestrian bridge around the stadium. The high density of Downtown will also continue along Main Street, reinstating it as a major thoroughfare throughout the city. Finally, a large canal strategically planned along the flood plain will address the sites tendency to flood and provide a new outdoor recreation space for the city